Welcome Dr. Carlos Albrecht!
Medical licensed in: SC, CO, NM and pending NC
Board Certification: IM and Cardiology
My interests:  To serve the populations of Lancaster, York, Chester and surrounding counties with the highest standards of inpatient, outpatient and the widest diagnostic cardiac and vascular services at our main offices and outreach clinics. I bring two-decades of experience in all aspects of invasive cardiology including preventive cardiology, lipid management, ECHO, tridimensional TEE, nuclear cardiology, diagnostic cardiac, peripheral catheterization, vascular imaging,  arrhythmia management with expertise in implant and follow up of pacemakers and ICDs.
Hobbies: Skiing, reading, running and traveling with family
Spoken Languages: English, Spanish, Italian, Portuguese.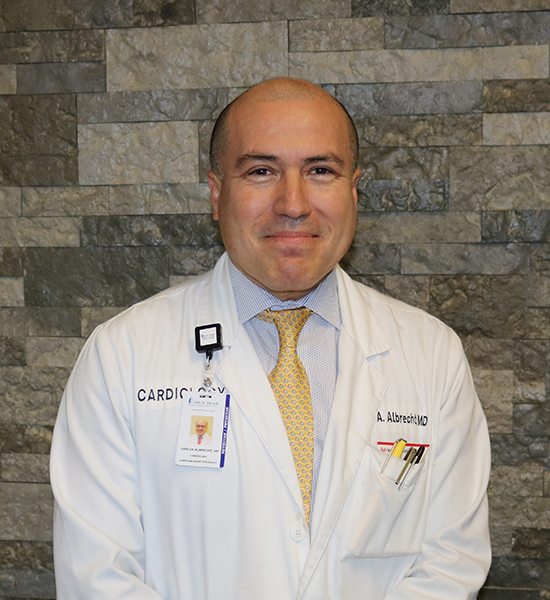 M.D., F.A.C.C.
---
Professional Certification & Licensure:
South Carolina Medical License
North Carolina Medical License
Board Certified as follows:
American Board of Internal Medicine
Cardiovascular Disease
CBNC Certification Board of Nuclear Cardiology
Board Certified Sleep Medicine
Professional Society Memberships:
Fellow, American College of Cardiology
American College of Physicians
Fellow, American Medical Association
Carolina Heart Specialists:
Medical Director of Nuclear Cardiology
Springs Memorial Hospital
Member of the Board of Trustees
M.D., F.A.C.C., F.S.C.A.I.
---
M.D., F.A.C.C.

---
Professional Certification & Licensure:
M.D., F.A.C.C., R.P.V.I.

---
Professional Certification & Licensure: